Fresh Kitchen & Bath Design is owned and operated by Anne Harvey (AKBD), an NKBA-certified kitchen and bath designer.
Committed to provide outstanding customer care, we:
Devote time and energy to getting the details right for your project.
Demonstrate comprehensive knowledge in kitchen and bath design, as well as construction, mechanical, plumbing and electrical systems.
Assess your individual needs and wants, creating designs that meet and exceed these requirements.
Recognize the importance of health, safety, and welfare in kitchen and bath design.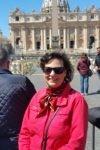 A native of New Jersey, Anne has lived in the Raleigh area since 1988. Combining design, customer service, technical, and communication skills, she creates kitchen and bathroom plans that are both aesthetically pleasing and functional.
Anne is an active member of the Eastern Carolinas chapter of the National Kitchen and Bath Association, and currently serves as VP of Government Relations.